Your experts for sustainable kitchen appliances - Mills. Flakers. Blenders.
Why buy a KoMo grain mill?
12 years warranty - out of conviction!
This should be quite unique: We offer a 12-year warranty on every grain mill for private use. Why? Because we are absolutely convinced of the quality. Only the very best components go into our grain mills – anything else is not KoMo.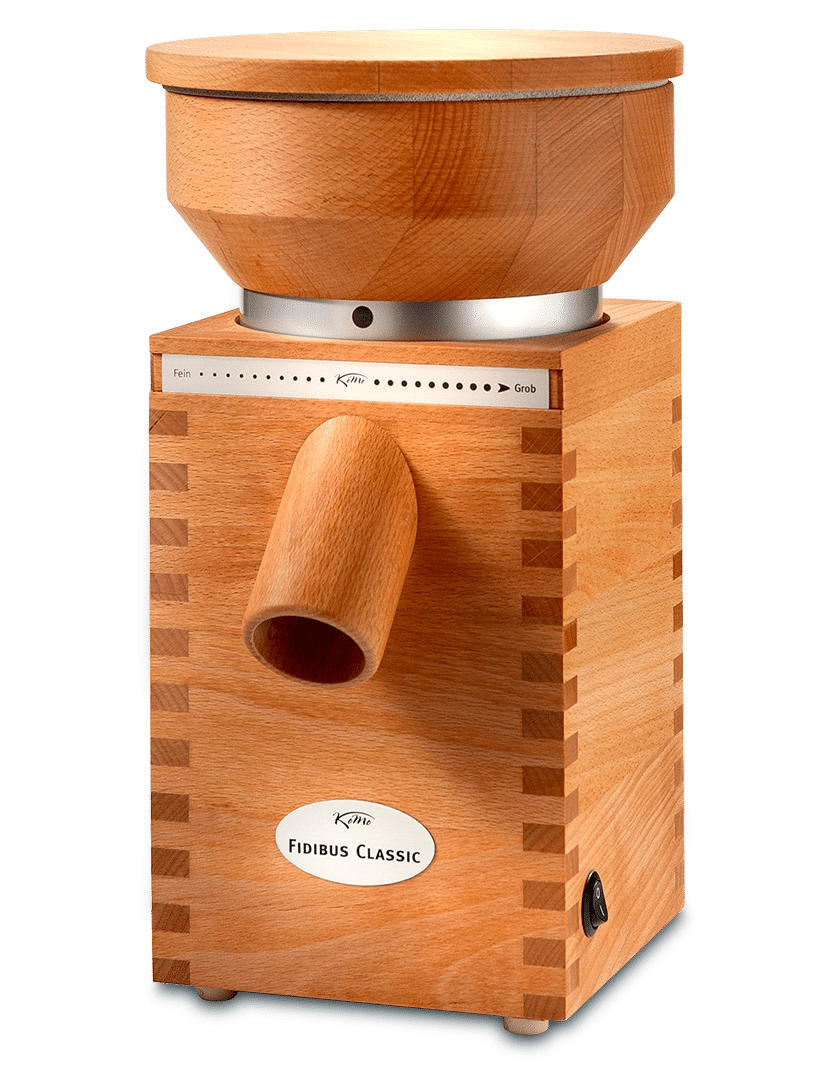 What to look for when buying a grain mill?
Buy responsibly and protect your environment!
The wood for our grain mills, flakers and mixers is PEFC certified – because our environment is important to us!
"Why do we love fresh coffee - but bake with flour that's been sitting on the shelf for months?"
Marcel Koidl, Managing director of KoMo
Good reasons to mill fresh
Can I grind only wheat with a grain mill?
No, much more for example: spices, legumes or even coffee.
Hart grain
Corn, rice, millet and more
Soft grain
Wheat, spelt, rye and more
Coffee beans
For fresh coffee
Legumes
Lentils, beans, chickpeas, peas etc.
Which mill is the right one?
powerful grain mills with 360 watts or 400 watts of motor power easily grind harder or larger grist such as corn and rice into the finest flour. These include the models:
If you need very large quantities of flour, then the 600 watt variant Fidibus XL or Fidibus XL plus is recommended.
By the way: Our grain mills can also be ground gluten-free on request.
What does it mean? All our grain mills are ground in at the factory. This is done for two reasons - firstly, it allows us to determine whether the mill really grinds as finely as it should, and secondly, the millstone is cleaned of any loose particles. The customer can therefore start grinding immediately after receiving the mill without further cleaning. The milling is usually done with wheat, but on request we also offer our customers to grind the grain mills with rice. For this purpose, please tick gluten-free when ordering. On the packaging of your mill you will find the gluten-free sign, so you can be sure to have received a mill free of gluten. For households where there is already a grinder and it turns out afterwards that one person in the household should avoid gluten, we recommend the use of an interchangeable grinder. This allows you to consistently separate gluten-containing and gluten-free products.
Our grind overview - What can I grind or flake with my machine?
Depending on the device, you can process different grinding or flaking materials. We have prepared a table for you for a precise overview. In case of further questions or uncertainties, please contact us via the contact form. Please also note the FAQs.
Grain mill Fidibus Classic
Compined Device Fidicloc medium
Cleaning the grinding chamber
Insert interchangeable grinder
Coarse-Fine Setting - Flocman
All our videos can be found directly on our youtube channel, which is constantly being expanded. So it's worth to drop by every now and then!