Why buy a KoMo grain mill?
12-year warranty - out of conviction!
This should be quite unique: we give a 12-year guarantee on each grain mill for private use. Why? Because we are absolutely convinced of the quality. Only the very best components come to us in the grain mills – everything else is not KoMo.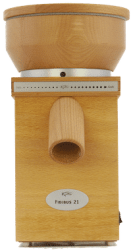 What to look for when buying a grain mill?
Austrian quality in workmanship and design
A real eye-catcher!
Convincing and beautiful devices with a great company philosophy! What more do you want?
We are totally satisfied with our KoMo Mio mill, it works perfectly and also looks cute in our kitchen.
We use it for grinding different types of whole cereals to make flour for our home-made bread, and also to make lentil and chickpea flours for cooking.
I am very satisfied with my Komomio - it grinds very fine and at a pleasant speed, the volume is okay, it looks great, great value for money!
For me, a healthy diet also includes as much freshness as possible. Grain mills, flickers and blenders are the perfect setup!
Flavours and fragrance flavours are particularly intense every time. Once tried, I certainly didn't know exactly why other flour could get its way into my household at all.
Great mills from sustainable production! We use it almost every day!
Buy responsibly and protect your environment!
The wood for our grain mills, flakes and mixers is PEFC-certified – because our environment is important to us!
Get 5 off your next order!
Like to get news from us?
From time to time, we will send you some news about us or offers.