Which grain mill is right for me?
So many great grain mills – but which ones should I buy now? We want to help you find the right grain mill for you.
There are a few crucial differences. Let's find out which grain mill best suits your needs.
Of course, in principle grain mills always work the same way: you put whole grain in the hopper, this is processed into flour by the ground stones below and reissued. Simple. But grain mill is not the same as a grain mill. They have different performance rates, i.e. they process different amounts of grain per minute, their hopper holds different amounts of grain, they can process different grinds, the housing can be made of different materials and it can be operated by hand or electrically. These are probably the main differences. Of course, there are also differences in price, weight, size and other factors. But let's take another look at the most important questions you should ask yourself if you should choose a grain mill.
The most important questions
If you go to the grain mill overview, you will discover the button "FILTER". Use it to filter by household size, performance, or price. With this, you have already restricted the selection and can now look at the appropriate devices in more detail in comparison.
Tip: Check out the grind overview!
If it is important to you that your grain mill can also grind durum wheat, legumes or spices, the grind overview will help you to find out which device you are well advised with.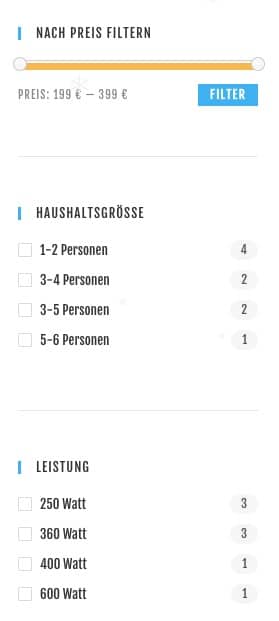 You occasionally grind wheat, rye or spelt in small quantities
For casual grinders who need a grain mill for soft grains but do not want to grind legumes or hard grains, we recommend these grain mills.
Families & ambitious hobby bakers
You or you regularly grind larger quantities of grain
A lot is done in your home? Are you a back blogger? Then we recommend a slightly more powerful grain mill like the Fidibus Classic or our KoMoMio.
Diverse grind seam desired?
For those who love variety
You don't just want to grind classic grains like rye, wheat or spelt – but also pseudo-cereals like amaranth, soft grains like corn, spices or coffee beans? Then these all-rounders are the perfect devices for you.
Professionals and bakeries, gastro etc.
You are a baking professional or do you need a grain mill for your bakery? Then the Fidibus XL Plus and the Jumbo are your perfect companions.
2 in 1: Grinding and flakeing
If you just want everything: Combination devices
If you're also interested in a flake squeeze, it's best to take a look at our combination devices – with which you can grind AND squeeze grain, and even at the same time!
Here you will find again all grain mills at a glance, sorted by recommended household size:
What when buying a
Grain mill?
Grain mill is not the same as a grain mill! There are a few things to keep in mind when purchasing a suitable device.