Learn more about our revolutionary high-performance mixer KoMoMix +
Our revolutionary KoMoMix + is finally here!
Do kitchen appliances always have to look boring and be built of plastic and metal? No! We took a radically different approach and, with the KoMoMix +, we designed a beautiful high-performance mixer that brings in some revolutionary features.
We revolutionized the blender.
We didn't want to just build the next blender, which has the same amount of power as others, but is cheaper. We wanted to create something extraordinary, and we believe that we really succeeded with the KoMoMix +!
We have taken a radically different approach and, with the KoMoMix +, have designed a beautiful high-performance mixer that brings in some revolutionary features, such as a case made of beech wood instead of plastic. Or the detachable handle of cork. Every single part in the KoMoMix + we carefully selected, developed every little detail for years – until we were 100% satisfied. We didn't just want to build the next powerful blender, we wanted to create something extraordinary, innovative. We think we succeeded with the KoMoMix +. A beautiful blender in 6 colours, which also radiates from the inside in view of the extremely high-quality components. And it is made fairly and environmentally friendly in Austria – not in low-wage factories in the Far East. There has not (probably) been anything like this yet!
The KoMoMix + is extremely easy to use with the "One Touch" knob. No complicated programs that no one uses anyway. Plus, it's super easy to clean, because that's important, too. The cork handle and also the 8-fold cutting knife (with two ball bearings) can be removed – so the container can be put into the dishwasher. In addition, the KoMoMix + is also exemplary in terms of safety: The container must be equipped, otherwise nothing will run at all. And he has suction cups for a safe stand. The tamper is so rounded that it harmonizes perfectly with the curvature of the container – we really thought a lot about every little thing, so that we and you have fun with the device for a long time.
So the KoMoMix + is exceptional in every way. It combines a beautiful design in 6 colours with super-easy operation, a lot of power and the highest build quality. We find this revolutionary – and we are also a little proud of our KoMoMix +.
Highlights
Made in Austria, fair and sustainable
Fantastic design, in 6 colours
Plenty of power with 1,400 watts (= 1.9 hp) and 30,000 U/Min, minimum speed 1750 U/Min
Unique beech case sealed with acid-resistant, food-grade lacquer
BPA-free Tritan container
Removable 8-fold cutting knife with two ball bearings
Highest quality and longevity
Super easy to use with the one-touch button, integrated pulse function
Capacity of the container: 1.7 litres
Super easy to clean through removable cork handle and removable knife
Extremely good value for money
3 years of development, completely redeveloped
A few impressions of the KoMoMix +
You want to know more? Yes!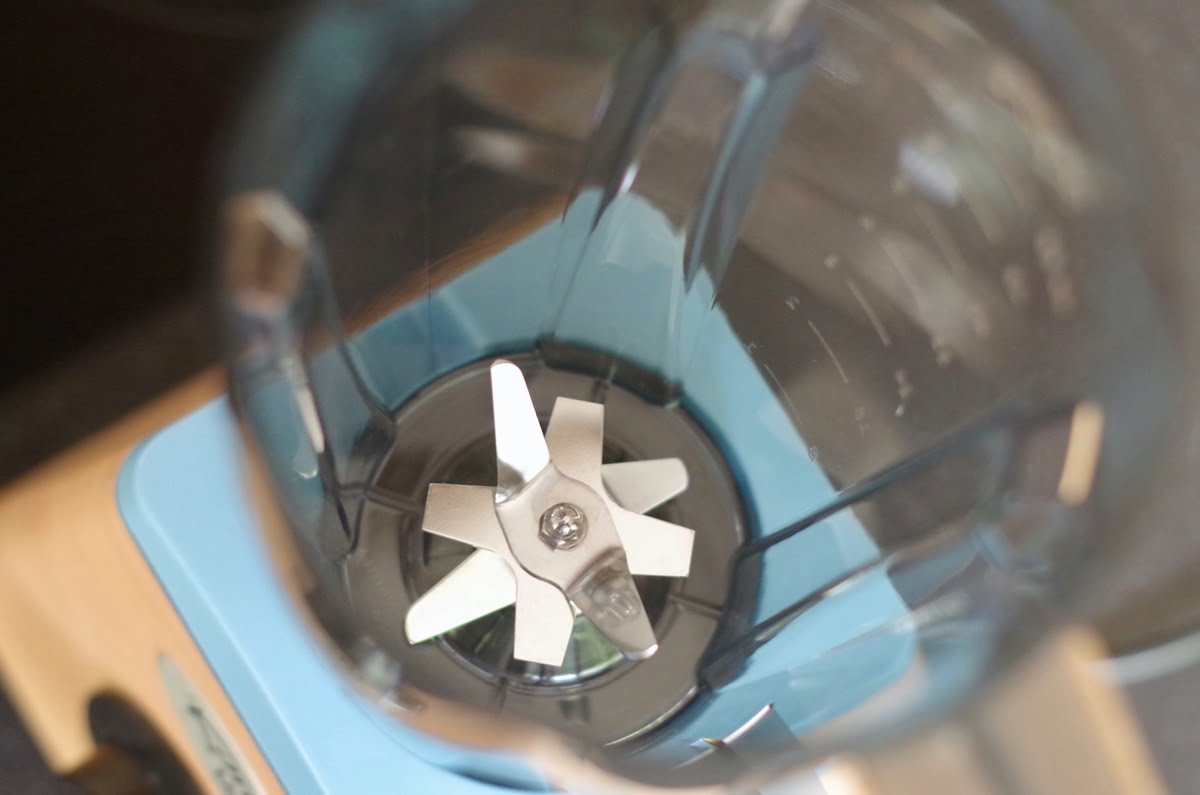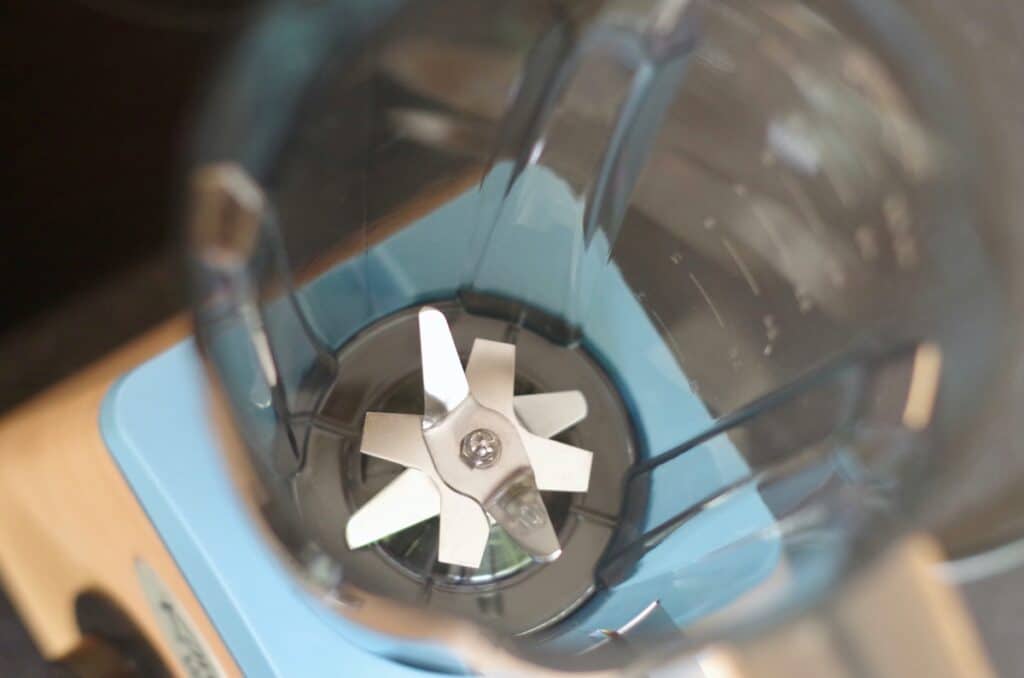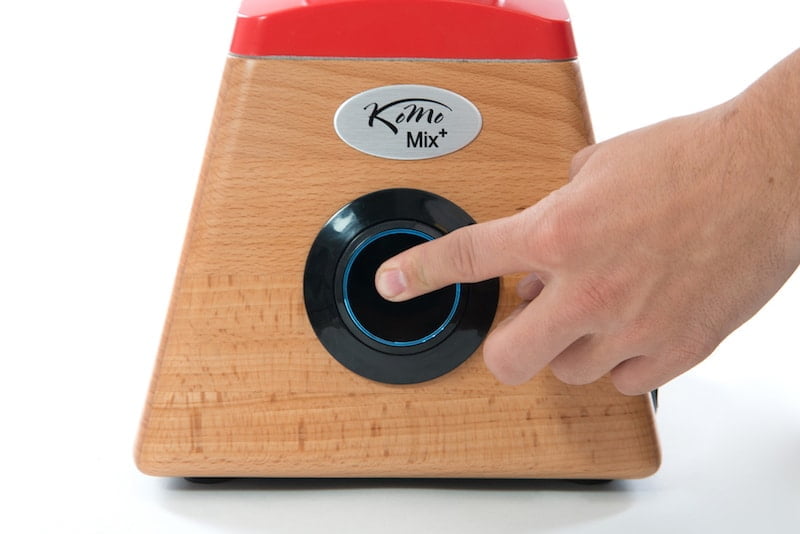 Super easy operation without complicated programs. Simply turn up and adjust the rotation speed continuously. Then just press the button to stop. To "pulses" also simply press the one-touch button briefly – it really doesn't get any easier, and no one needs more!
Especially when you create spreads like hummus, something always sticks to the knife. Cleaning is not even so easy. With the KoMoMix +, you can easily and safely take out the knife. With the cap, you can take out the knife without running the risk of injuring yourself on the knives, in which you turn the plastic nut out on the bottom of the container at the same time. That only takes a few seconds. After that, containers and knives can easily be completely cleaned.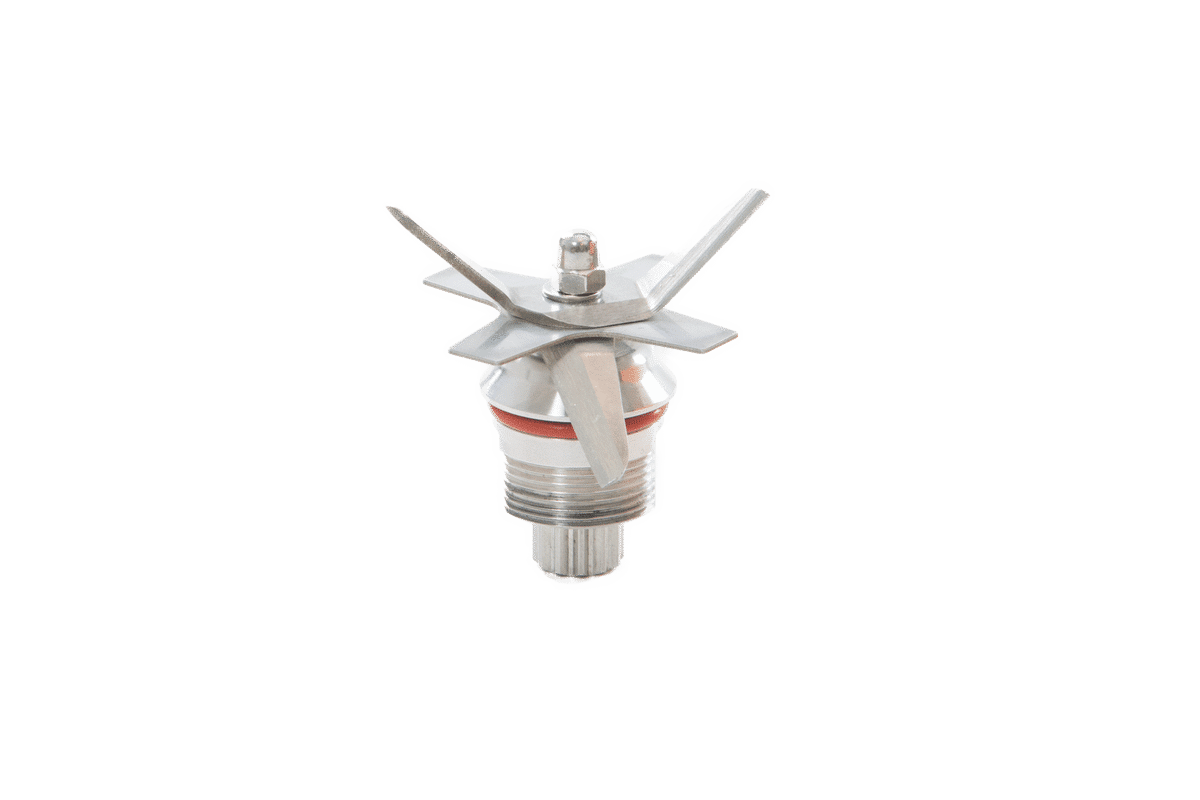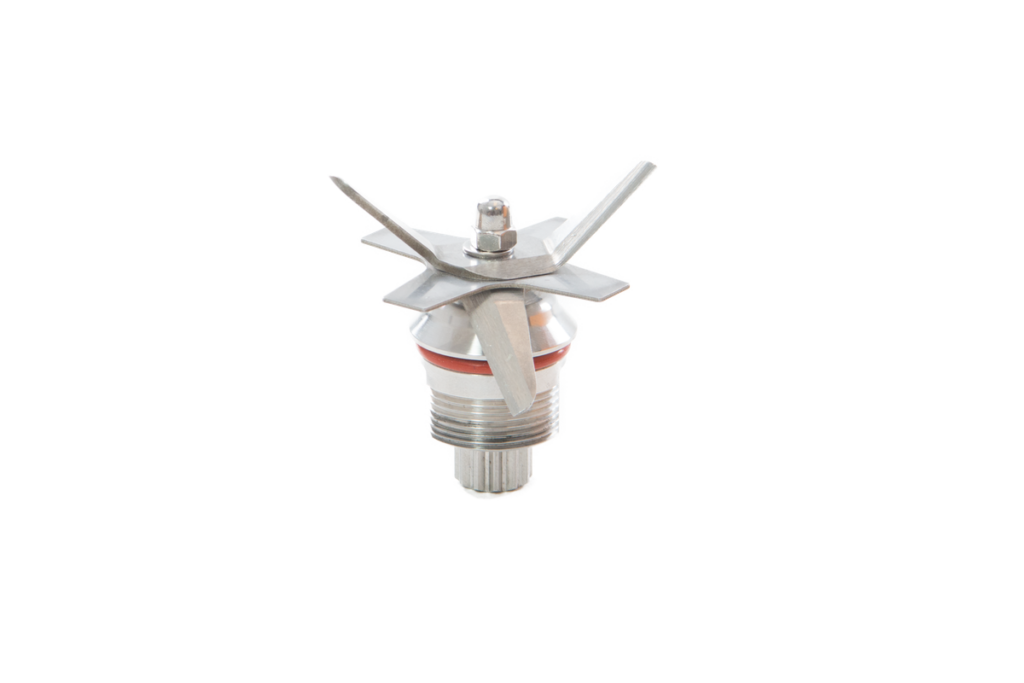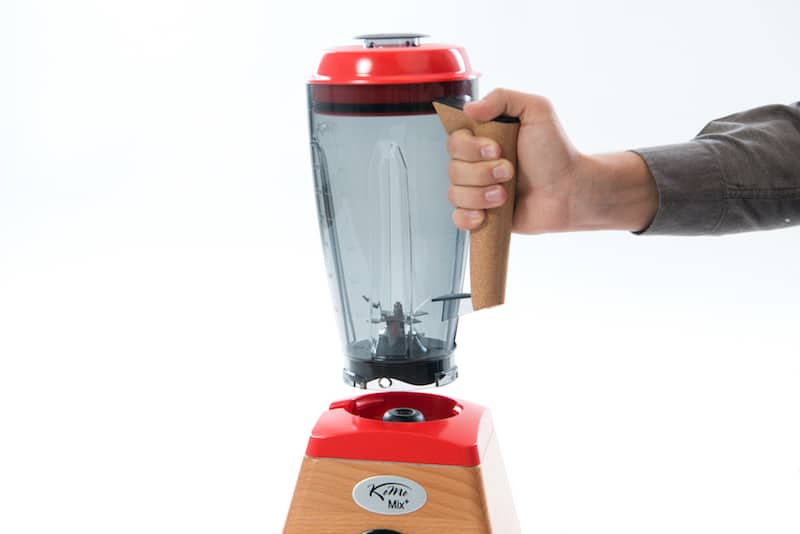 We love sustainable materials like cork! And when we developed the container, we wanted to try something extraordinary here as well. The handle made of cork not only feels really good, it is also quite easily removable. So you can put the container wonderfully in the dishwasher. And honestly – the handle looks great, doesn't it?
How easily can you accidentally bump against the container when using a mixer? Well, that's going pretty fast – we've already "tested" ourselves. With the KoMoMix +, the container must be turned in until it snaps noticeably. Only then is it possible to use it, otherwise … nothing happens at all. In addition, we have attached suction cups to the bottom for a safe stand. Especially when you use a pestle to do that, all of that really pays off.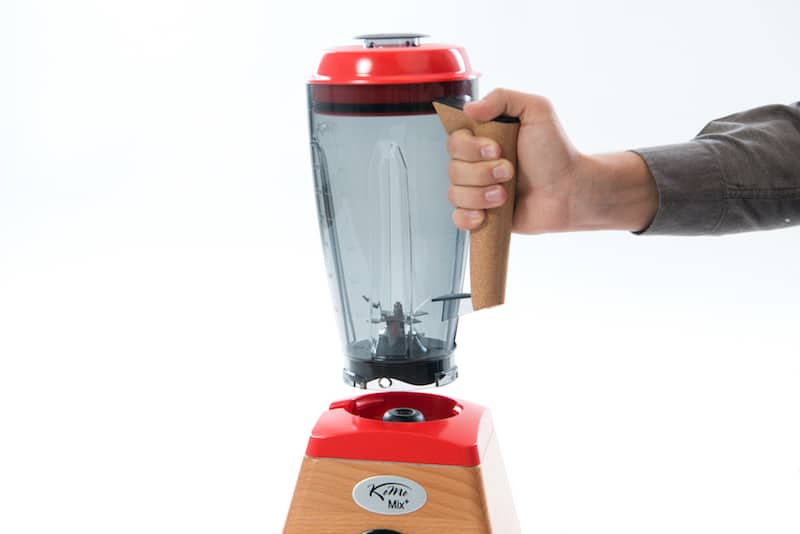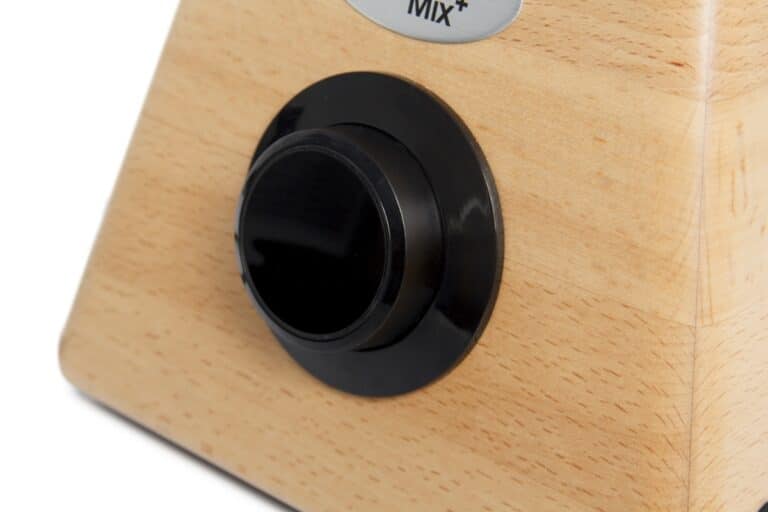 Made in Austria-fair and sustainable
Most kitchen appliances are produced cheaply in the Far East. No wonder, so the company has much more profit. But that doesn't fit into KoMo's corporate philosophy. We want our equipment to be produced as fairly and environmentally friendly as possible. That's why we assemble our equipment in Austria and Germany and source all the installed parts from Europe – where it goes, even regionally. When purchasing the parts, we even make sure that they are delivered to us as much as possible in a package-free manner. We only have one world, so responsible business is extremely important to us.
Why is the KoMoMix + revolutionary? Take a look for yourself!
Convinced? Buy the KoMoMix + at the introductory price.